Wilmington-based NESTER tells you the real monthly cost of your home
Brendan Kennealey's new startup gives prospective homebuyers better insight into what they're buying into.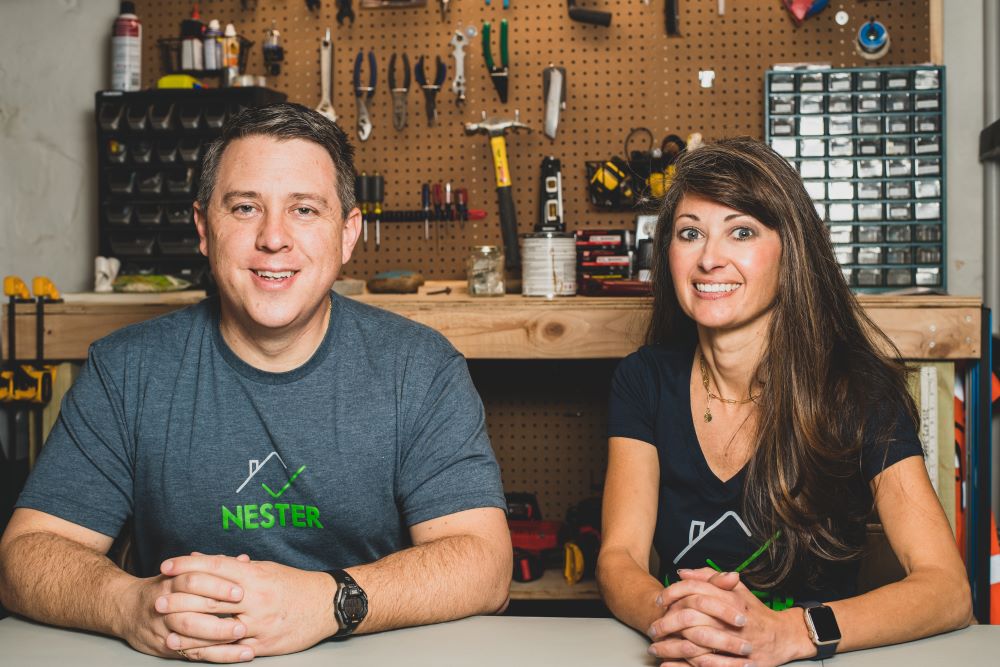 By Holly Quinn / @harlequinn8203
NESTER FOUNDER BRENDAN KENNEALEY (LEFT) AND CPO ALEX WALSH.
(COURTESY PHOTO)
---
The decade that NESTER founder Brendan Kennealey spent as president of the Salesianum School left him knowing how to plan when things break down.
Kennealey's proptech (that's property tech) startup, which lets homebuyers and current homeowners see how much they should save every month based on what in the home might break down and when, could change the game for the home real estate market.
The "unexpected" expenses of homeownership
Despite the many advantages to owning a home — equity building, the ability to customize and renovate and creating generational wealth among them — it means taking on a lot of financial responsibility, too.
For people who rent their homes, maintenance like replacing appliances and repairing roofs is included in their monthly payment. That's why owning a three-bedroom house is usually less expensive than renting: Renters pay for all of that as they go.
Without that monthly maintenance charge, you're on your own, and a major repair like a new roof can be crushing.
Knowing the real costs
Kennealey was having dinner with a friend experiencing these homeownership issues when the idea for NESTR came to him.
"He had recently bought a house that was about 10 or 12 years old, so in his mind, it was still a very new house," Kennealey told Technical.ly. "He was lamenting all the stuff that was going wrong with the house. So I started asking him a whole bunch of questions about it because it occurred to me that a lot of the stuff that was going wrong with the house was basically just up on the end of its useful life — and he had no visibility into that."
Even with a good realtor and a home inspection, certain details were left out, such as the age of the roof and the HVAC unit. It just isn't standard to inform buyers of all of those things before they put in an offer.
Knowing items' approximate lifespan and budgeting to make sure they could be replaced or repaired as needed was something Kennealey learned while running schools.
"We had big facilities and a lot of construction projects," Kennealey said. "Just by the nature of the job, I got familiar with it."
No regrets
Most homebuyers, however, are not familiar with expected maintenance cycles. A 2022 Zillow Report found that 75% of new homeowners had regrets, while nearly a third (32%) regretted buying a home that needed more maintenance than expected.
After leaving Sallies in 2021, Kennealey spent a year making the NESTER platform a reality alongside chief product officer Alex Walsh, CTO Nim Nesic, a team of developers in the Philippines and a growing remote team distributed throughout. It officially launched in the fall of 2022 but really started taking off in early 2023; in March, it won the New Castle County Chamber of Commerce's Cutting-Edge: Fintech Investor Ready Innovation Showcase.
A closer look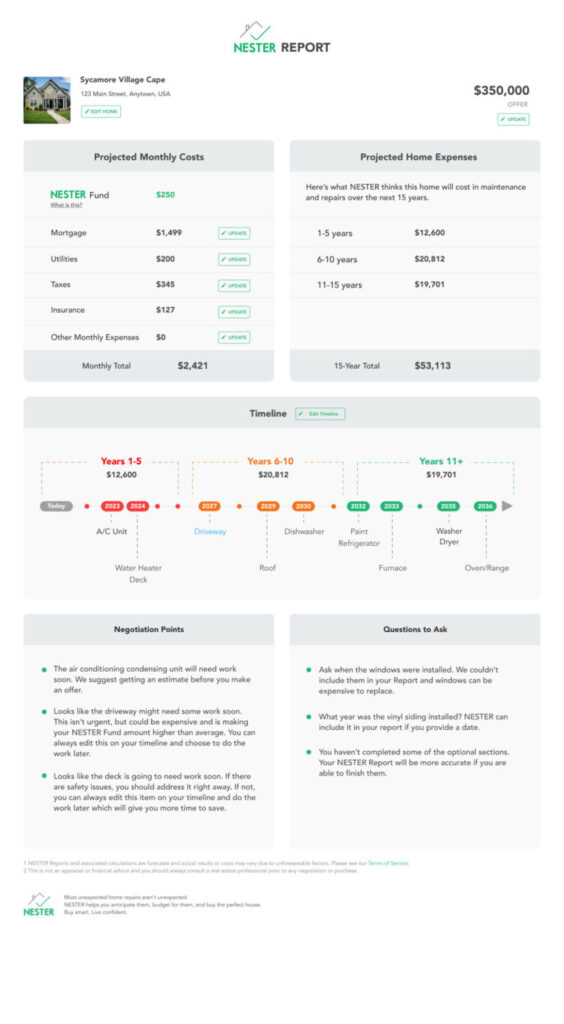 At first glance, NESTER looks like Zillow or a similar typical home search site. But there's one major difference: When you click on a home that's for sale, you get a timeline of expected repairs and an estimate of how much more per month you should save in order to keep up.
In a demo, one reasonably priced home was shown to have an HVAC system and other items near the end of their lifespan, with an estimated more than $20,000 in maintenance costs within the next couple of years. The estimated additional cost per month was over $800 — a figure Kennealey said homeowners should factor into their monthly payment.
Another home, with a newer HVAC unit and only minor expected replacements like a stove or refrigerator, had an estimated additional cost of just $90 a month.
Users can also add renovations they want to do at some point in the timeline, and NESTER will calculate that into their additional monthly cost.
Building the timeline
Since information about things like the age of the roof or appliances isn't required in the listing, creating the timelines takes some asking.
"What happens is a buyer punches in a home address of a house that they're interested in, and we immediately send an email to the listing agent of the house and say, 'We have a buyer who is very interested in this house, can you please have the seller fill out some information about the house?'" Kennealy said
In many cases, there is no response — when the market is hot, sellers have no incentive to do anything, he says.
"So we made it so that the buyer can do all of that themselves. We walk the buyer through a series of questions that are very easy, we think of it as essentially we're holding their hand through a series of questions. If they have the listing for the house, especially if it's done well, and if they have a seller disclosure, which most states, including Delaware, require, they can get through about 90% of our questions, and it takes about 15 or so minutes."
Timeline results can be used in the negotiating process, potentially lowering the mortgage cost. Once the deal is done, additional monthly costs calculated by Nester are paid voluntarily into the homeowner's savings account, though Kennealy says the plan is to incorporate a third-party savings account into the platform at some point.
"The longterm plan is that the the mortgage lender itself would wrap [the NESTER savings payment] into the mortgage payment," he said. "Right now, we're just telling them, hey, this is how much you need to save."
Growing in the First State
Though the team is spread out, Kennealy plans to keep the company based here in Delaware
"I love Delaware," he said. "I love Wilmington. We're based here because of that, and I would like to grow here."