At NESTER, we know selling a home can be just as stressful as buying one. We want to be your partner in the selling process and help you set your home apart from the others. Sellers who are transparent and straightforward will have the advantage.
GET STARTED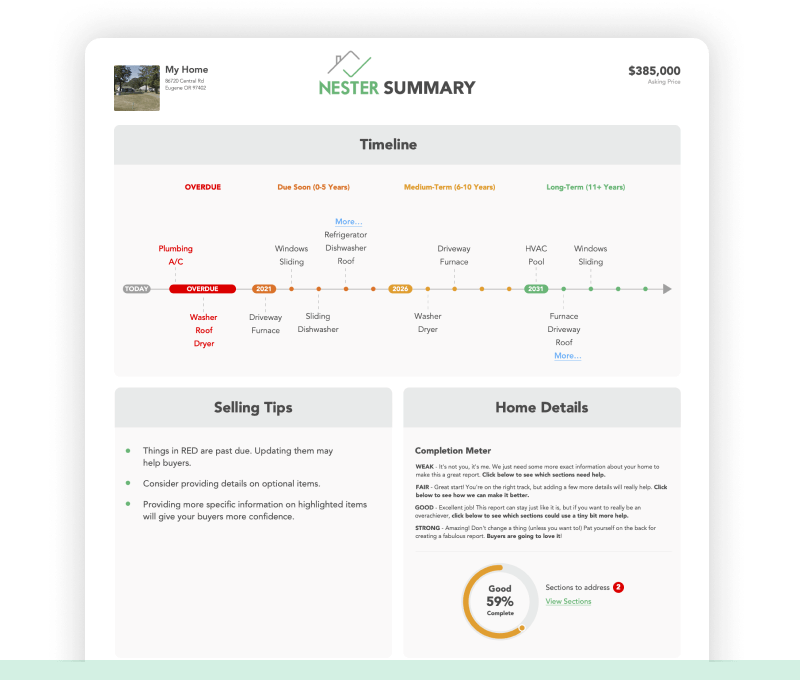 You know your home better than anyone and you've worked hard to get it ready for this moment. Completing a NESTER Report for your home is:
FREE
Easy
Takes 20 minutes
Did we mention it's free?
GET STARTED
NESTER is your partner
Every home will eventually need a new roof, replacement windows or updated appliances. But NESTER can help make your home stand out from the rest by giving buyers a clear understanding of those costs up front so there are no hidden costs. Complete a free NESTER Report for your home to:
Relieve buyer anxiety about hidden repair costs
Show off the investments you've made in your home
Get selling tips to help you close sooner
"NESTER is a valuable product for anyone buying or selling a house. My buyers want transparency and my sellers want to set their homes apart the moment they go on the market. NESTER is an innovative way to bring a wealth of knowledge into the process.

Cathleen Wilder

Real Estate Agent | Long & Foster