Don't let unexpected maintenance and repairs cause you to fall out of love with your dream home
If your New Year's Resolution includes a new home, you might be happy to know that there are signs indicating the months-long, red-hot real estate market is starting to cool off. That should come as good news for buyers. Low inventory, waived inspections and sometimes ruthless bidding wars were causing a perfect storm of real estate stress and resulted in many new homeowners experiencing the dreaded feeling of buyer's remorse. While it can have many different causes — maybe the location isn't the best or the house isn't the right size — the biggest source of regret hits buyers right in the wallet: not being prepared for the unexpected costs of repairs and maintenance.
According to a survey by Bankrate, the feeling is common among all homeowners, but millennial buyers are feeling it the most. The survey, which polled 1,400 homeowners, found that more than 60% of millennials feel some form of regret after purchasing their home. That number dropped significantly for the Baby Boomer generation, with only about a third of buyers feeling remorse. But across the board, even experienced homeowners still said they were surprised by how much money they had to spend on maintenance.
Here are some key findings from the study:
41% of all homeowners feel regret
64% of millennials (ages 25-40) feel regret compared to only 33% of baby boomers (ages 57-75)
16% of those polled said their biggest regret is not being prepared for the costs of maintenance and other costs associated with owning a home. That number jumped to 21% among millennials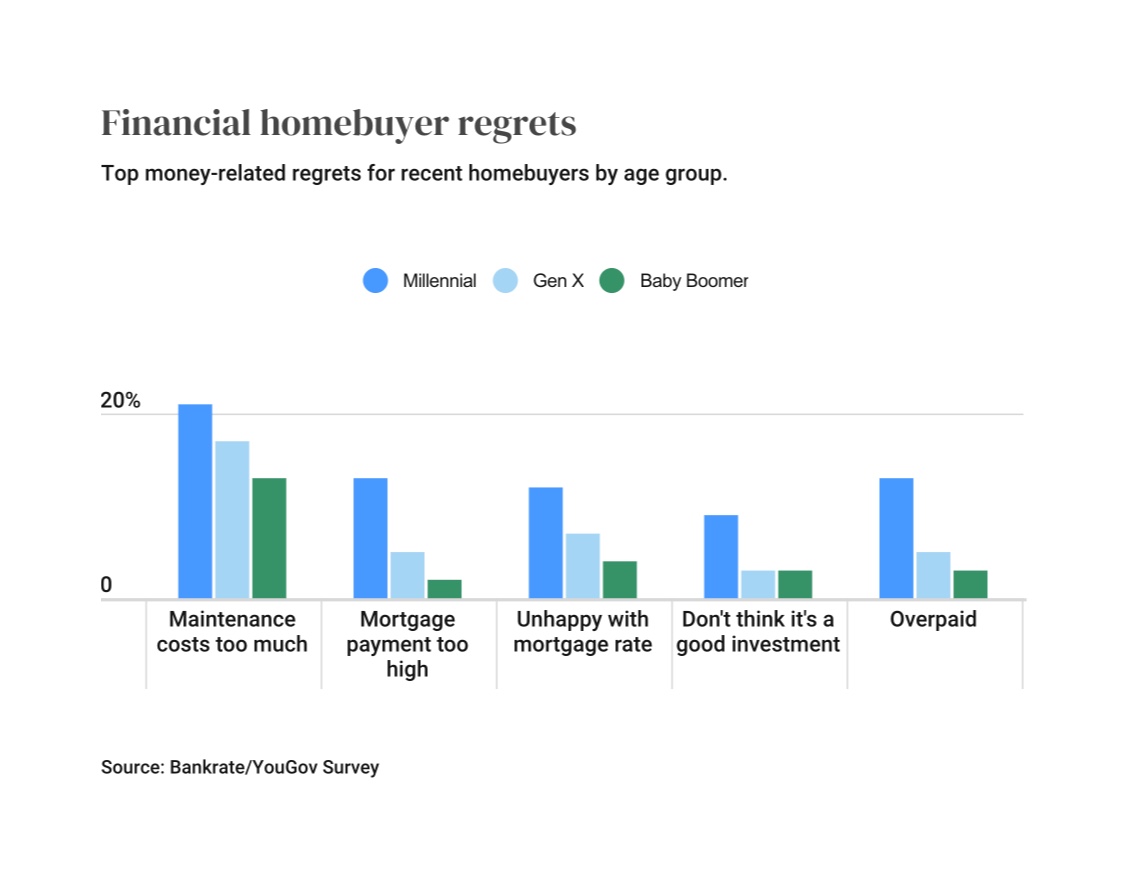 While size, age and location of the home can play a major factor in repair costs, on average, homeowners in the U.S. can expect to pay about $3,000 a year on maintenance and repairs. If that number surprises you, you're not alone. A recent survey by Cinch found that nearly half of all homeowners underestimate those costs and focus only on the obvious costs of the mortgage payment and insurance. But there are a lot of hidden costs of home ownership and, for many buyers, by the time they find out what they are, it may be too late to save for them.
Stephen Mottola, a top real estate agent for Compass, says sometimes houses that need work will have lower listing prices, but the numbers can sometimes be deceiving. "When a first-time home buyer is looking to purchase, they should take into serious consideration the age of the roof, HVAC systems, and windows which are the major replacement expenses for a home. In a standard neighborhood with similar type homes, prices for a home with 25-year old systems, roofs and windows may be only $5,000 to $10,000 less than a home with fully updated roof, systems and windows. You could never replace all of these items for this amount of money. Be highly aware that sometimes it is better to buy for updated systems rather than for cosmetic cuteness."
So while curb appeal might be what catches your eye, the old adage about buying a house with good "bones" still holds true. Buyers should also be aware that repairs and maintenance are just another part of the home-owning experience and shouldn't cause anxiety. Just like with your car or your bike, regular "check-ups" and maintenance will go a long way toward extending the life of everything in your home. But, with Americans spending more time at home because of COVID, they were also spending more time and money on maintenance and repairs. A recent Angi study found that homeowners completed one additional maintenance project last year and there was a 42% increase in spending on emergency repairs.
If you've maxed out your budget on the mortgage, insurance and utilities alone, that kind of repair bill can come as a shock, especially if you are not prepared for it financially. There are a few approaches to help start or manage your emergency savings. It's customary advice to have about 1% to 3% of your home's value saved for annual repairs. Mottola also suggests another way to have that money ready for when the time comes. "Many buyers have buyer's remorse when something they thought was in good shape breaks or fails to operate correctly. A strong contingency plan to prevent some of this remorse is to buy 5% below your budget, so that you can have at least 4 months of expenses tucked away for those unexpected problems that arise in so many homes."
In spite of all the good advice out there, many homeowners say they have less than $500 saved for home repairs. Garrett Flasinski, a Financial Planner with Mass Mutual of Greater Philadelphia, says not being financially prepared for repair costs can have a snowball effect. "Many homeowners that don't properly plan for maintenance repairs and expenses are often forced to rely on credit cards to help absorb costs. This results in higher interest debt payments which in turn decreases their monthly surplus and ability to save. This situation forces a cycle of relying too heavily on credit cards." When you put a repair on a credit card, you end up paying more than it really cost as a result of the finance charges and the revolving debt can affect your credit score. More debt can lead to more stress and can cause homeowners to feel regrets. But while maintenance and repair costs are inevitable, regret doesn't have to be.
So what can you do to avoid homebuyer's remorse? Making sure you take a few key steps in the early part of the homebuying process can go a long way toward helping you avoid regret once you own your home.
Work with a trusted realtor
Today's real estate market isn't something most people would be able to navigate alone. If you're a veteran buyer, more power to you! But if you are concerned about buying a home and then regretting it later, an experienced agent will be your best friend through the sometimes tumultuous process.
When looking for an agent, keep these checkpoints in mind:
Make sure the agent understands the market
Work with an agent who has a track record of buying and selling in the locations you are considering
Find an agent who is willing to consider the whole house, even some of the things that might be wrong with it. It doesn't have to be a dealbreaker if you can prepare for what might happen down the road and no home is perfect!
Get an inspection
We can't stress this enough, but we understand that in a frenzied housing market, there might be circumstances where buyers feel pressured to waive the inspection or risk losing the house to another bidder. If that is the case, here are some potential ways around it:
Don't be shy about asking the seller if the house has undergone a recent inspection.
Some sellers are even offering to pay for an inspection on their own and they will provide it.
The seller might also still have a copy of the inspection that was performed during their own transaction, which might not have been too long ago.
However, if you are in a situation where the seller has an inspection, but is not willing to provide it, it might be a good idea to walk away, or at the very least, know that it's an as-is sale and buyer beware.
If you are able to get an inspection, remember that the information it contains doesn't become irrelevant the minute you leave the closing table, so don't shove it in a drawer and forget about it! Experts say one inspection report can be useful for many years:
Review the inspection a few times a year just to see what items might be coming due for repair or replacement.
Refer back to your inspection when a problem arises with one of the systems in the house, just so you know what condition it was in at the time of the sale.
If you complete renovation or repair projects, consider having the inspector return to update the report.
Explore Warranty Options
Just like cars, homes and many of the items inside them come with warranties which can be very helpful – if you know that they exist! Mottola gives this advice to buyers, "Always look to see what homeowner's warranties are available when purchasing a home with older systems. Evaluate the offers from different companies as some are more beneficial than others." Just think about the relief you would feel when you find out what just broke in your brand new home is actually under warranty!
Most Unexpected Repairs Aren't Unexpected
While feelings of regret about the costs of unexpected repairs and maintenance among new homeowners is common, sadly, the good news is, it doesn't have to be. You won't be able to stop your house from needing a new roof or hot water heater, but if you know it's coming, there are steps you can take in advance so you are prepared both financially and emotionally for when the time comes. And the even better news is that, with regular maintenance, you'll lessen the chances of having to make the repair in an emergency situation which will always save you money.